Tony Romo to make CBS broadcasting debut at Dean & DeLuca Invitational
Tony Romo will make his broadcasting debut for CBS this week, but it's nowhere near a football stadium.
Tony Romo is all set to make his broadcasting debut for CBS but it's not quite where you might expect.
It's been reported by Clarence Hill of the Fort Worth Star-Telegram that CBS Sports Producer Lance Barrow announced on Monday night that Romo, who retired from the Dallas Cowboys in April to replace Phil Simms for the network's lead NFL broadcast team, will make his debut in the booth at the 18th hole of this week's Dean & DeLuca Invitational. Barrow, speaking at the Ben Hogan award ceremony at Colonial, seemed very confident that Tony Romo will be able to make a smooth transition.
"It will be the first time he will wear a blazer and he will be introduced as our newest addition to CBS Sports…I think he is going to be great. I think we have the next John Madden on your hands."
Did anyone else just picture John Madden covering golf? What a missed opportunity that was, am I right? In all seriousness, I myself think that Romo is going to be just fine this week. While he was hired for his football expertise, I think this is a nice way for him to get acclimated to the booth. He's an avid golfer and plays very well, as evidenced by his recent attempt to qualify for the U.S. Open, and his knowledge of the game should play nicely on the broadcast.
While once a bigger event on the PGA TOUR, the Dean & DeLuca Invitational won't break any viewing records for CBS this weekend and it's the perfect place for Tony Romo to make his debut. When he starts covering the NFL, he's going to be under some Joe Buck-like scrutiny from viewers but this weekend is a pretty low-pressure situation. On the other hand, his debut might bring in a few more viewers for CBS so maybe there is a little pressure there.
Whatever the case may be, the Tony Romo era at CBS is upon us.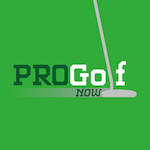 For all the latest news and notes from the world of golf, please be sure to check back in with us each and every day. You can give us a like at the Pro Golf Now Facebook page and follow us on Twitter at @ProGolfNow.