We couldn't wait for it to get here and already, the 2014 Masters is over. Once again, the world's most popular golf tournament is in the rear-view mirror, and the finish was not the exciting battle down the stretch that we have become accustomed to having on a Sunday afternoon at Augusta. No fantastic 9 iron for the highlight reel, and no playoff, but Bubba Watson wins his second Green Jacket, and a youngster gets a playing lesson from a gracious champion.
The tide turned at the 8th hole on Sunday afternoon when 20 year-old Jordan Spieth made a bogey at the eight hole, and lost the early lead. The death-blow came at the pinnacle of Amen Corner when Spieth put his tee shot in Rae's Creek on the par three 12th hole.
Watson put a birdie, and a three shot lead on the field at the 13th hole and played Bubba Golf to the end. He parred out and put the pressure on the field to make up the difference. The challenge never came from Spieth, or fellow Masters rookie, Jonas Blixt. They would end in a second place tie for their first appearance at the Masters.
When Bubba consoled the youngster at the 18th green, it brought back memories of the 1999 US Open when Payne Stewart consoled a young Phil Mickelson and told him "your young, and you will be here again". We all know what has happened to Phil since that day, and I hope the same fate doesn't come to Jordan Spieth.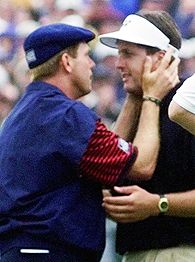 With the final putt safely in and the tears of victory having momentarily subsided, Bubba Watson shook the hand of Jordan Spieth, his playing partner and primary pursuer Sunday at Augusta National. Then he gave Spieth a hug. Told him how talented he was, reminded him that he was just 20 years old, that he would have many more opportunities to win the Masters.

All the things you would expect a gracious champion to say to a youngster who was hurting and trying to process the pain of a valiant effort that came up short.

It's doubtful Spieth heard a word of it.

"You know," Watson said, "he doesn't really care what I have to say at that moment."
Jessica Marksbury and Shane O'Donoghue from Golf.com recap the 2014 Masters from Augusta National in a Video entitled:
Masters Recap: A second jacket for Bubba and an arrival for Jordan Spieth

Most of my friends and colleagues had written Bubba Watson off as a one-hit-wonder after he won the 2012 Masters. The 35 year-old from Bagdad, Florida had a lot on his plate after winning his first Green Jacket, and most important was the birth of his first son. He has shown us in 2014 that he has his career, and golf game back on track.
With a near-miss at Phoenix, and a win at Riviera earlier in the year, I think we can say Bubba is back. I don't think he has the patience for a US or British Open, but I'm not sure anyone can beat him at Augusta if he shows up ready to play.
"This place, you know, suits him perfectly," said his good friend Rickie Fowler, who tied for fifth.

"He's able to hit golf shots around here that some guys can't," Fowler said. "It's fitting for him to win here."

"His drive on 13," Spieth said, "I'll never forget."

"I'm not really that good," Watson said. "I've got to keep practicing."
His dominating distance, and ability to work the ball in either direction makes him the perfect player for this golf course, and I'm not sure at this point in time that anyone can beat him. If Sunday's walk-in-the-park was any indication, I think there may be more Green Jackets in Bubba future.
Source: PGATour.com Golf.com
Tags: 2014 Masters Bubba Watson Golf Jonas Blixt Jordan Spieth Phil Mickelson