U.S. Open: Colin Montgomerie also collapsed at Winged Foot in 2006
Colin Montgomerie had a huge collapse on the 18th hole at Winged Foot in the 2006 U.S. Open. But it's largely overlooked because of Phil Mickelson.
The last time the U.S. Open was played at Winged Foot, in 2006, the finish was one of the most memorable in major championship history. Everyone remembers what happened to Phil Mickelson, but Colin Montgomerie had a disastrous finish of his own in Sunday's final round.
The lasting memory from that Open was Mickelson, heading to the 72nd hole with a chance to finally win the U.S. Open. Mickelson, ever the gambler on the course, decided to hit driver on the tough 18th hole and he hit it way, way left. In fact, it was so far left that it bounced off a hospitality tent and bounced back into the rough.
Mickelson drew a decent lie in the rough but his second shot caught a tree, leaving him 185 yards for his third. That shot landed in the greenside bunker left of the green. Mickelson would need to get up and down for a bogey that would get him in the playoff. As we all know, he was unable to do so after his pitch shot left him up against the collar and he was unable to pitch in from there.
Montgomerie also came to the 18th with a chance to win. On the 17th hole, he had just rolled in a 40-foot birdie putt and he came to 18 with a ton of momentum.
Unlike Mickelson, Montgomerie did not have a bad drive on 18. In fact, he hit a nearly perfect drive and it came to rest on the right side of the fairway.
The thing that might have affected Montgomerie was that he was forced to wait while his playing partner, Vijay Singh, was forced to take a drop after hitting his ball near where Mickelson was. The nearly 15-minute delay gave Montgomerie plenty of time to think about his second shot and, even more, about having a real chance at finally winning his first major.
Montgomerie's approach came up short and right of the green in the deep rough. Still, a par would be good enough for Monty.
However, he drew a terrible lie in the rough and his third shot came to rest well past the pin. It would be a tricky, downhill putt for par for Montgomerie. He would run that putt past the hole about eight feet, but a bogey would tie him for the lead in the clubhouse.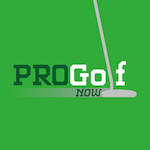 Monty's bogey putt slid by to the right, leaving the veteran with a tap-in for a double bogey. That left Montgomerie at 6-over par and one shot behind the eventual winner, Geoff Ogilvy. It also made Monty 0-for-58 in majors at that point. He is now 0-for-75.
Montgomerie never had a better chance to win a major than he had at Winged Foot in 2006. But most people only remember Mickelson's collapse on 18 that year.