U.S. Open: Bryson DeChambeau making blogger look bad
Bryson DeChambeau finds himself squarely in the hunt at the 2020 U.S. Open after two rounds of play, much to the dismay of this blogger.
On Monday of this week, some knucklehead blogger said that Bryson DeChambeau was not a real contender at this week's U.S. Open. Boy, whoever that blogger was sure looks foolish now.
Wait, what? That was me? Darn it!
Through two rounds of the 2020 U.S. Open, DeChambeau is absolutely contending for his first major championship. And he heads to the weekend with the best chance he's ever had to win a major.
DeChambeau had a major advantage on Friday, playing in the morning round when the conditions were much easier. That's not to say that he didn't have a good round because he absolutely did. In fact, the long hitter had the best round of the day as Winged Foot showed just how tough it can be.
Friday's round was very up and down for DeChambeau, especially as he played the back nine first. He started with a bogey on the 10th hole, followed by a birdie on the 11th. However, he fell right back with a bogey on the par-5 12th hole, slipping back to 1-over on the day.
DeChambeau finally recorded a par, on the 13th hole, to stay at 1-over. But a birdie on 14 got him back to even.
The roller coaster continued as DeChambeau bogeyed the 15th hole, then birdied the 16th. He would par the 17th and 18th to finish with three birdies, three bogeys and three pars on his first nine.
DeChambeau started the front nine with a par on the first hole. Then, he returned to a similar pattern, with a bogey on the second hole, followed by a birdie on the third. He remained at even par at that point.
A par on the fourth hole was followed by another bogey, this one on the fifth hole. But, as you might guess, DeChambeau birdied the sixth hole and he was even par yet again.
DeChambeau would par the seventh and eighth holes and it appeared that he would close his round at that even par mark, where he stayed all day.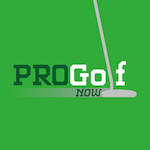 But DeChambeau had a spectacular finish. On the par-5 ninth hole, DeChambeau recorded an eagle to close his round, finishing with a 2-under par 68. That turned out to be the low round of the day, and one of only three rounds in the 60s all day long.
Despite what some idiot blogger said on Monday, DeChambeau is showing that he is a contender this week. However, he needs to prove it on the weekend before this blogger is totally convinced.