CJ Cup: Tyrrell Hatton uses incredible iron play to grab lead
Tyrrell Hatton won on the European Tour last week and, after a dazzling iron display on Thursday, has the lead at the CJ Cup.
Fresh off his win on the European Tour's BMW PGA Championship, Tyrrell Hatton had plenty of momentum heading into the CJ Cup this week on the PGA Tour. And despite travelling halfway around the world, from Surrey, England to Las Vegas, Hatton was able to stay hot on Thursday.
Hatton wasted no time on Thursday, getting under par right away and staying there for the entire day. Playing the back nine first, Hatton birdied the par-4 10th hole after sticking his approach shot about 10 feet from the pin.
On the par-4 11th hole, his approach shot was even closer. This time, Hatton needed just under three feet for a birdie, getting him to 2-under through two holes.
Believe it or not, on the 12th hole, his approach shot was even closer than his first two. In fact, from 92 yards out, Hatton holed his wedge shot, and he was suddenly 4-under par through just three holes.
The birdie streak ended on the par-3 13th hole. Hatton hit the green, but was 35 feet away with his tee shot. He settled for a two-putt par, staying at 4-under par.
But on the 14th, he was at it again. His approach on this par four left him about 25 feet for birdie. All Hatton did was run in that putt to get to 5-under through five holes.
Hatton would par the 15th and 16th holes to remain at 5-under. Then on the par-3 16th hole, he stuck his tee shot about five feet from the cup. He made yet another birdie to get to 6-under on the day. That's where he would finish his first nine holes.
Hatton's hot iron play continued as he made the turn. On the first hole, his 10th of the day, Hatton's approach left him about four feet for birdie, a putt that he made to get to 7-under par.
On the 11th hole, Hatton ran into his first trouble of the day. This time, his approach shot was poor, missing the green from 136 yards out. His pitch was also poor and he needed two putts to get down for his first bogey of the day.
Hatton would par the third hole before another birdie, this one on the par-5 fourth hole. He was back to 7-under at that point.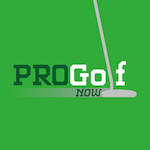 Hatton would par the fifth, bogey the sixth, par the seventh, birdie the eighth and par the ninth. That left him with a round of 7-under par 65. It also gave him a one-shot lead over Russell Henley and Xander Schauffele after 18 holes of play.
The momentum he brought with him to Vegas carried Hatton in round one. If he can keep the momentum, and the hot iron play, it could very well continue all weekend.