Brandon Matthews' Hug Repaid with Arnold Palmer Exemption
Last fall, Brandon Matthews's goal was to play his way from the LatinoAmerica Tour to the Korn Ferry Tour with hopes of eventually getting to the PGA Tour.
After Brandon Matthews received nationwide attention for giving a signed glove and a simple hug to a Down Syndrome fan in Argentina last fall, he became an unexpected media darling, appearing on Morning Drive and the Today show.
This week, he's doing something else he didn't anticipate. He's playing in the Arnold Palmer Invitational.
It all started four months ago. Brandon Matthews had a chance to win a playoff for the 2019 Argentina Open, which would have guaranteed him a spot in this year's British Open. It was then that the fan yelled in the middle of his putt. Matthews missed, handing the victory to another golfer. He explained what happened to the media at the Arnold Palmer Invitational, which is where the quotes in this article originate from.
"I was frustrated at first, didn't understand the full circumstances behind it. But once I did it was a pretty easy situation for me to handle"
The fan had Down Syndrome. Matthews understood right away because his mother has worked with special needs people for several years. In addition, his best friend's sister has Down Syndrome.
Matthews immediately asked to meet the fan. He signed a glove, wanted to make sure the fan wasn't upset, and then he gave the fan a hug.
"I saw it on a daily basis, and I just kind of have a special place in my heart for it," Matthews added about special needs individuals.
Then Matthews went about his business thinking nothing of it after that.
"My one buddy Matt Ryan (who also plays on the LatinoAmerica Tour) came up to me afterwards and he goes, 'Oh, this is going to pick up and stuff.' And I said, No, it's not," Matthews explained. "I had no idea that it was going to get as big as it did."
Then, as fast fame often does, it dissipated. But it was not forgotten at the headquarters of the Arnold Palmer Invitational. According to a tournament staffer, Sam Saunders, Arnold Palmer's grandson, Amy Saunders, Palmer's daughter, and Roy Saunders, Amy's husband, saw what Matthews did and agreed that his actions were the kind of thing that Arnold Palmer himself might have done.
When the board met the next time, they brought up Brandon Matthews as a candidate for a special exemption to the tournament. It was agreed. Matthews would receive a special invitation to play in their tournament.
"It's going to be a pretty cool week," Matthews said, admitting to excitement about being in the field. "Really fortunate to be able to get this exemption, especially here. Mr. Palmer's event, obviously, we have some ties back from Pennsylvania, and to be considered for this and then get this is pretty special."
What has kept Matthews from advancing to the PGA Tour so far, he thinks, is consistency. And he's now working on that with swing coach Dale Gray.
"I've been really happy to see some of the results that I've seen," he said. "So, excited to see how it stacks up."
Hopefully, some of his golf will be televised because he is astonishingly long. He is beyond Cameron Champ long.
In 2019, Matthews led the Korn Ferry Tour in driving distance average with 331.3 yards. That's average. Not the longest drive. However, he also had the longest drive on that tour in 2019: 421 yards at the Dormie Network tournament.
Frighteningly, there were 15 players on that tour who had drives of 400 yards or more.
Brandon Matthews says his distance comes from the way he learned to play golf.
"My dad set me on the red tees when I was like four or five years old," he said about learning to play. "There was a little pond in front of the red tee. It was like, I don't know, 70 yards to carry."
He was there with a big bucket of balls trying to hit over the pond.
"As soon as I did, my dad moved me back a tee, and then that process kind of repeated itself until I got all the way back," he continued. "So, I feel like that was one of the big reasons why I was blessed with my length, because I kind of grew up just trying to hit it as hard as I can."
It also helps that he grew up to be six-foot-four.
The downside of trying to hit a golf ball hard is that he has had back problems, a herniated disc, and bulging discs, never a good thing for anybody, but especially for a golfer. That has sidelined him from time to time. But it has not kept him from chasing his dream.
Thursday afternoon at 1:19 PM, playing with Hank Leboda and Matthew NeSmith, the PGA Tour door opens wide for Matthews.
"Obviously being my first PGA TOUR start, this is really, really special," he added. "To be a part of Mr. Palmer's tournament as my first ever PGA TOUR start is something that I actually can't really put into words. It's pretty incredible."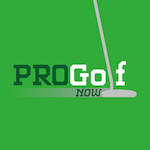 Brandon Matthews knows that with a top ten, he can get into Valspar in two weeks. That's his lofty goal. If you're human, you've got to be pulling for him.