3M Open: Cameron Tringale turns it on during the third round
In his best round of the year, Cameron Tringale was on fire all day and made a big move at the 3M Open during Saturday's third-round action.
Cameron Tringale started off on fire Saturday, and never cooled off. When his round was over, he would turn in his lowest scorecard of the year and be the newest contender making a charge at the 3M Open.
Through 56 rounds this year, his best score was a -6 64, coming during the opening round of the RSM Classic way back in November. His third-round at the 3M Open put that one to shame.
Starting off on the tenth hole, Tringale was looking to avoid a blow-up stretch, which had occurred during each of his first two rounds at the 3M Open.
On day one, it happened on the 16th and 17th holes, where he shot a double and a bogey, his only mistakes of the day. Day Two didn't see any doubles, but he did card three bogeys on the front nine, hurting his otherwise impressive number of nine birdies.
He would start off the tenth hole with a birdie, knocking home a 25-footer for his first score of the day. It would continue from there, as Tringale would tear up the course all round.
He nearly chipped in for eagle on 12, settling for a 16-inch birdie putt. His tee shot on the par-3 13th nestled up just inside 10 feet. After his third birdie through four holes, it looked like he might be putting together one of those special rounds you see every couple of weeks.
On the driveable par-4 16th hole, Tringale would find the green, and knock home a 22-footer for eagle, really turning it on. Short of the green on the next hole's par-3 tee off, it wouldn't stop him as he drained a birdie once again.
He was six-under at the turn, and you had to wonder if he could do it again on the back. If so, he would shoot the magical 59, as the back is only a par 35.
The 1st hole really accentuated that thought, as he would birdie, and find himself -7 through just ten holes. With eight holes left, he would need to shoot -5 to get there still.
With only one par-5 and no driveable par-4's, it just wasn't in the cards for an all-time round. He was still nearly able to make eagle on a par-4, when he knocked it to 16 inches from 140 yards out on hole five.
A birdie on the 8th would be his final one of the day, and Cameron Tringale would finish with an impressive round of 62, at -9 for the day.
Well, he would've, if he was able to finish with a par. A pulled tee shot found him well left and in a bad position. He would lay up to 70 yards, and find himself unable to make the up and down from there after missing his 11 footer for par.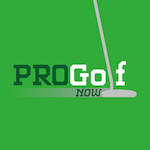 Still, a -8 63 is nothing to frown at. He finds himself with the best round of the day so far, and in a T-6th place. Even though he is four shots back, at least at the time his round finished, he at least can see the top of the leaderboard now after a fantastic third round at the 3M Open.