Sanderson Farms: Jimmy Walker was dynomite in opening round
Jimmy Walker had a dynomite start to the Sanderson Farms Championship and finds himself at the top of the opening round leaderboard.
Yes, I know that dynomite is spelled incorrectly. For anyone old enough, or who's parents made them watch older TV shows, you'll know why I said Jimmy Walker played dynomite to open the Sanderson Farms Championship.
Walker currently sits tied for 1st after an error-free round of 64 and is -8 for the tournament. To me, having an error-free round always makes it seem like you played a bit better than someone who carded a bogey, which is what Charley Hoffman did, who also sits at 64.
Starting on the back nine of the Sanderson Farms event, it took him a while to get going and find some red numbers. After three straight pars, he would rip off three straight birdies, starting with the par 3 13th hole where he drained a 16 footer for birdie.
It sure didn't look like he would go back-to-back, but a fantastic bunker shot to five feet put him in a great spot, and he would make the putt for birdie. He would one-up himself on the par 4 15th, missing the GIR. He would knock it in from off the green, and officially be off and running with a great round.
Finishing off his first nine on the par 3 18th hole, he hit his tee shot a bit deep and was 18 feet past on the fringe. His mid-range putting continued to impress as he would make another length putt here to get to -4 on the day.
After two pars to start the front, he had a nice look at a 21 footer for eagle on the par 5 3rd hole. Finishing just a foot away, he would tap in for birdie. That was a nice much nicer look at eagle than what Jimmy Walker would find himself facing on the par 5 5th hole, where he was on for an eagle look again, but this time from 70+ feet away.
All you can hope to do in these situations is get close, but Walker probably wasn't too happy to find his putt run past the hole, stopping seven feet away. A bit outside the halo you want, but he was still able to bang it home to get to -6 on the day.
His longest birdie make of the day would come on the next hole, as he made a 24 footer to get to -7. The shot of the day for Walker though came on the next hole, the par 3 8th.
From 172 yards out, he would stick it to just two feet out. Whenever you have a tap-in birdie on a par 4, you can't complain, and that was enough to put Jimmy Walker into a tie for the lead. He nearly chipped in for birdie on the 9th, but had a 1 foot tap-in, and would finish at 64.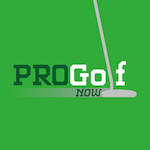 There are still a fair amount of golfers out on the course, with Walker being one of the earlier ones to tee off, playing in the morning half. Unless something big changes, say Kevin Chappell continuing to play well (-4 through 6), Walker is likely going to have a share of the lead heading into round two. Just a dynomite round by Jimmy Walker to open the Sanderson Farms Championship.