Zozo Championship: Phil Mickelson records nine birdies Saturday
Phil Mickelson had a round with nine birdies on Saturday at the Zozo Championship. Still, it was a typical Lefty round with tons of twists and turns.
Phil Mickelson has had quite a week at the Zozo Championship. On Thursday, he had a roller coaster ride through his round, which somehow ended with an even-par round of 72. Then on Friday, Mickelson had a stretch of holes where he went 2-9-3-2. Really, he did. That was on his way to a 2-over par round of 74.
Through two rounds, Mickelson was in a tie for 72nd place out of 77 players in this week's field. But on Saturday, he would make a rise up the leaderboard. At least for a while.
Lefty started his round on fire on Saturday. Playing the back nine first, Mickelson birdied the 10th hole after his approach shot left him less than five feet. On the 11th hole, a par five, Mickelson got up-and-down from greenside to make another birdie. He was 2-under par through two holes.
On the 12th hole, Mickelson narrowly missed his birdie and tapped in for par. Then, he got on a really big roll.
He birdied the par-5 13th hole after nearly chipping in for eagle. On the 14th hole, Mickelson rolled in a 15-foot birdie putt. And just like that, he was 4-under on his round through five holes.
On the 15th hole, a par three, Mickelson's tee shot left him about 25 feet from the cup. No worries, Mickelson ran that putt in as well for his third straight birdie. Then on 16, another par five, Mickelson made an eight-foot birdie putt. That was four birdies in a row and six in seven holes for the 50-year-old Mickelson.
Mickelson made a 17-foot birdie putt on the par-3 17th hole for his fifth birdie in a row. He was 7-under on his round through eight holes.
But, Mickelson being Mickelson, he did bogey the 18th hole. Still, it was a 6-under par 30 on his first nine.
Mickelson made the turn and got back on the birdie train. He birdied the first hole, and then the second hole to get to 8-under on his round.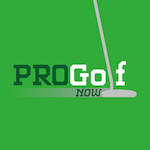 However, on the par-3 third hole, Mickelson hit his tee shot into the water. Momentum busted. He would go on to double bogey the hole, slipping back to 6-under.
After five straight pars, Mickelson bogeyed his final hole of the day, the par-4 ninth, to finish with a 5-udner par 67. It was a better round for sure, but with nine birdies on the day, Mickelson certainly hoped it would have been better.